2022 NC Club Teams info & entry form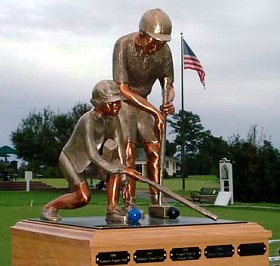 July 21–24, Linville
Overview
The North Carolina Club Teams Championship is a Golf Croquet (GC) doubles tournament, to be held on several courts in the Linville area. Play will begin the morning of Thursday, July 21, to conclude by mid-afternoon on Sunday, July 24. Play is doubles only, in two or more flights. Expect to play 3-4 games per day.
Eligibility and entry allocation
There is no residency requirement. Each entry must be a doubles pair, with both players current members of the same USCA-affiliated NC croquet club and of the USCA. (NC residents who are At-Large members of the USCA may enter for the At-Large team.) Space is limited to 40 entries (i.e., 80 players) in each event. Each club is initially allocated a maximum of 4 entries (8 players) per event, with an overall limit of 40 entries (80 players). Entries will be accepted first-come, first-served. If a club exceeds its allocation, the extra entries will be placed on a waiting list.
If, as of June 23rd (the "Team Allocation Date"), there is space remaining, the per-club cap will be lifted. The final entry deadline is July 7.
Flight assignments will be based on the average ranking or handicap of the two players. (Exception: an entry with a large handicap difference will play in the flight appropriate for the lower handicap player, as determined by the Tournament Director.) GC players without USCA handicaps will be assigned flights by the Tournament Director.
Details
Each entry will represent their NC croquet club in the Penwell Trophy competition. Points are awarded to each entry that finishes 4th place or higher within a flight. The club with the most points is the winner and will have their name inscribed on the trophy. The winning club will also receive a plaque (no other trophies will be awarded).
The tournament fees include morning coffee and lunch each day, including the Finals Brunch, and the Tournament Dinner.
Tournament registration and practice will be at Linville Ridge only, Wednesday July 20, from 4:00 to 6:00.
The tournament fees include morning coffee and lunch each day, including the Finals Brunch, and the Tournament Dinner.
Entry form
Download entry form—PDF file, 44 kB
Travel information
This is a popular resort area. Book your lodging early.
Directions
Linville is in Avery County, at the junction of highways 105, 181 and 221 (about 18 miles SW of Boone). The Eseeola Croquet Club is directly across from the Eseeola Lodge, just south of the traffic light. The other tournament sites, Grandfather and Linville Ridge country clubs, are about two miles north on Hwy 105.
Past champions
| Year | Club Team | Individual |
| --- | --- | --- |
| 1996 | Pinehurst Croquet Club | Buzz Lee and Bob Yount (Black Mountain) |
| 1997 | Pinehurst Croquet Club | Wayne Synan and Stu Jones* (Black Mountain) |
| 1998 | Croquet Club of Etowah Valley | Mack Penwell and Jeff Soo (Stoneridge) |
| 1999 | Eseeola Croquet Club | Ed Roberts and Hugh Barger (Davidson) |
| 2000 | Pinehurst Croquet Club | Harold Allison and Daley Craig (Black Mountain) |
| 2001 | Bald Head Island Croquet Club | David and Kyle Maloof (Eseeola) |
| 2002 | Bald Head Island Croquet Club | Bill and Billie Jean Berne (Bald Head) |
| 2003 | Meadows Mallet Club | Roy Gee and Danny Huneycutt (Meadows) |
| 2004 | Meadows Mallet Club | Bob Cherry and Mack Penwell (Pinehurst) |
| 2005 | Meadows Mallet Club | Bill and Billie Jean Berne (Bald Head) |
| 2006 | Meadows Mallet Club | David Maloof and Bill Denton (High Country) |
| 2007 | Meadows Mallet Club | Andy Short and Frank Thompson (Stoneridge) |
| 2008 | Meadows Mallet Club | Andy Short and Eileen Soo (Stoneridge) |
| 2009 | Meadows Mallet Club | Ed Roberts and Jon Essick (Meadows) |
| 2010 | Meadows Mallet Club | Steve Summer and Rick Wilhoite (Meadows) |
| 2011 | High Country | Steve Johnston and David Maloof (High Country) |
| 2012 | Meadows | Danny Huneycutt & Tom Yates (Meadows) |
| 2013 | Pinehurst | Danny Huneycutt & Tom Yates (Meadows) |
| 2014 | Meadows | Jeff Soo & Bob Roth (Stoneridge) |
| 2017 | Western Mountains (GC); High Country (6W & overall) | Steve Summer & Rick Wilhoite (Meadows—GC); David Maloof & John Taylor (High Country—6W) |
| 2018 | High Country | Simon Jenkins & Matthew Essick (Meadows—6W); Gene Raymond & Chris Barley (High Country—GC) |
| 2019 | High Country | Chris Barley & Gene Raymond (High Country—6W); Mike Taylor & Elaine Moody (Pinehurst—GC) |
| 2021 | Team West | Tom Balding & Chris Barley (West—6W); Ken Scoggins & Jim Teel (West—GC) |
* handicap play

Last modified on 7 June 2022