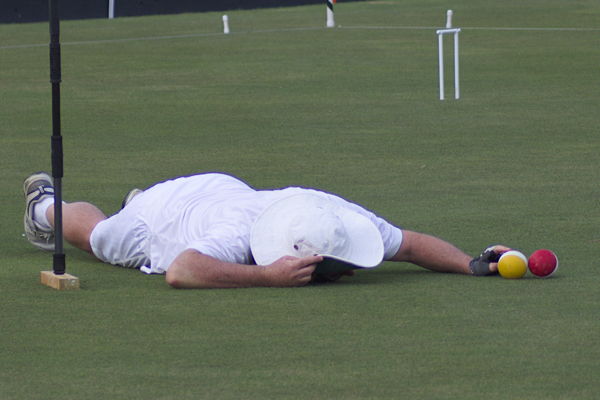 Brian Cumming began his defense of the NC Open title with four straight wins on Day 1, including three triple peels. Jeff Soo went one better with four triple peels. Danny Huneycutt, Bob Cherry, and Mike Taylor were also undefeated as the final round of the day began.
Despite an unusually cool early spring, the Pinehurst courts are in reasonable condition. with good new growth. The club no longer overseeds during winter, so there are some faster patches where the grass hasn't come in as strongly. And, because the club painted the dormant grass green, these faster patches can be hard to spot. Pine pollen is an annoyance, visible clouds of it bursting forth from the trees, but overnight rain should provide some relief.
With only three players advancing from each block in Championship Flight (19 players total), a strong record will be needed to make the cut. Indeed, it's highly likely that some players with winning records will not advance. Also, the first playoff round will be a single game, making winning the block highly attractive.
First Flight, with seven players, begins today (Friday).