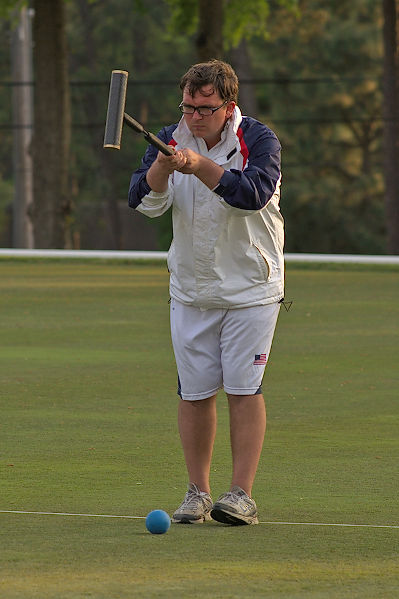 While players are adjusting to the variably paced lawns, new hoop settings and high winds today kept things interesting. Only one more triple peel was added to the total.
First Flight started the first of their two round robins today. The two Russes, Dilley and Hanson, remain undefeated.
In the main KO, Matthew Essick and Mike Taylor won in the play-in round. All quarterfinals are underway and have completed at least one game. Essick leads Jeff Soo 1-0, Brian Cumming leads Taylor 1-0, Mike Todorovich and Doug Grimsley are at 1-1, Todorovich having won the first, and Stuart Lawrence leads Robert Hurst 1-0; the latter match was pegged down with Lawrence facing a potentially match-winning turn.