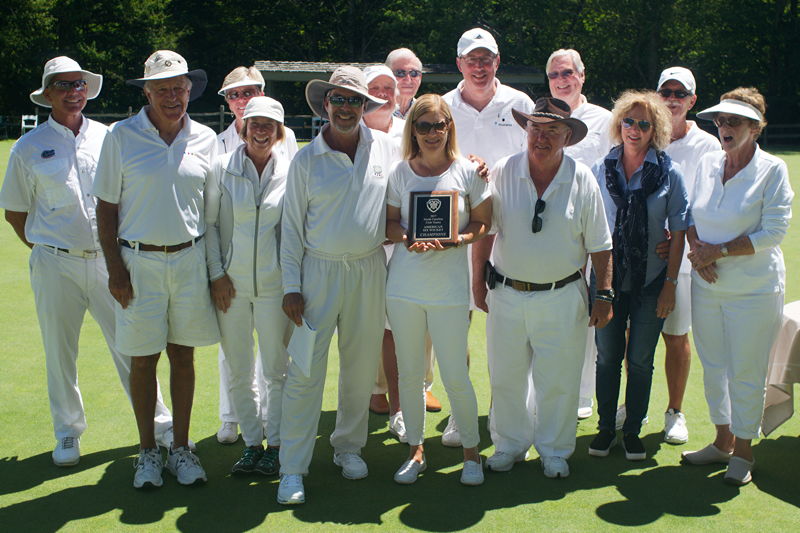 After a two-year gap, NC Club Teams returned with a new format and new enthusiasm. With 70 players this year, the doubles-only tournament is again the most popular event on the NC District calendar. Golf Croquet (GC) was added to the mix, drawing a strong contingent from the Western NC District, who banded together as the Western Mountains Croquet Club. They won the GC title, five of their pairs finishing in the money in First and Second flights.
The host clubs, banding together as the High Country Croquet Club, dominated the American Six-Wicket (6W) competition, winning all three flights. Combined with a good showing in GC they had the overall competition for the Penwell Trophy wrapped up by the end of Saturday's play. They previously won the title in 2011.
Mornings were devoted to GC, afternoons to 6W. As expected the Western Mountains team was especially strong in GC. While their overall block results against the other clubs were mixed (14 wins, 13 losses), they advanced five of their ten pairs to the playoffs. In First Flight, Diane and John Walker, whose only block loss was to teammates Cathy and Jeff Baillis, advanced to a final match against another Western Mountains team, Hal Cottingham and Dick Boger (who had beaten the Baillises in their semi-final). The Walkers won 7-6 and the Western Mountains team won 11 of a possible 13 points for First Flight GC. The team earned another three points in Second Flight GC. High Country had a pair in each of the Championship and Second Flight finals, setting up a possible tie on 14 points for both clubs, but both pairs lost to give the GC title to Western Mountains.
6W was the order of business in the afternoons. As in the GC competition, First Flight turned out to be the key. High Country had three pairs in First Flight, and all three advanced to the playoffs. Meadows Mallet Club players Becky Essick and Tom Yates prevented an all-High-Country final by beating Chris Barley and Len Canavan in their semi-final, but Rob Byrd and John Schoo prevailed in a nip-and-tuck final, 18-17. In Second Flight, two of the three High Country pairs advanced to the playoffs. Gail Barley and Joanne Becker reached the final, where they beat the previously unbeaten Bald Head Island pair of John Gottshall and Len Miller, 11-10.
Tournament players and local club members provided good spectator support for both of the Championship Flight finals. Chris Barley and Len Canavan, despite playing First Flight in 6W, were placed in Championship Flight GC on the strength of Canavan's ranking and experience in tournaments in Egypt, home of top-level GC. They advanced to the semi-final round on a 3-2 record, where they then shocked teammates David Maloof and John Taylor with a 7-4 upset. The other semi-final had Meadows players Steve Summer and Rick Wilhoite overcoming a 3-5 deficit to beat the Stoneridge pairing of Eileen and Jeff Soo, 7-6. Down 3-6 in the final, Summer and Wilhoite scored four unanswered points for another 7-6 win.
The Championship 6W final featured Maloof and Taylor vs. the Soos. For Taylor this was the first trip to a Club Teams championship final. For the other three it was old hat. All four players had stretches of three- or four-ball break play in an entertaining match. Maloof and Taylor survived a late comeback attempt to win 18-16. Maloof has now won the championship 6W final three times, each time with a different partner.
Final standings
| # | Club | GC | 6W | Total |
| --- | --- | --- | --- | --- |
| 1 | High Country | 10 | 22 | 32 |
| 2 | Western Mountains | 14 | 0 | 14 |
| 3 | Meadows | 8 | 5 | 13 |
| 4 | Bald Head Island | 6 | 4 | 10 |
| 5 | Stoneridge | 1 | 6 | 7 |
| 6 | Pinehurst | 0 | 0 | 0 |